Home » Everything Disney » Disneyland Paris »
4 – 7th August 2010
Disneyland Paris!
I've been sharing my trip reports from our 2011 Orlando, Florida holiday on blog for the last few months now, and it's finally over! But…there's more. This is my trip report from when we visited Disneyland Paris in 2010 for our first wedding anniversary ♥ Also included is the other days from our short citybreak to Paris.
Cast:
Me (Michelle) 33, plus size lass and Disney virgin!
Him (Steve) 37, chief photographer and holder of "stuff" (bag, drinks, cash etc!). Also a Disney virgin!
Day 1 – Wednesday 4th August 2010
Took the Eurostar to Gare Du Nord from St. Pancras at 9.15… really pleasant journey – finished reading Dan Brown's newest novel and the time flew by. Before we knew it we were in Paris!
The Metro was really easy to navigate and found our accommodation at Hotel Soft near Jacques Bonsergent station. Spent the afternoon, after unpacking our stuff, on a tour bus to see the sights of Paris. The cost was (I think) 29 Euros each. Or was it 39? Oh well!
Stopped off at the Eiffel Tower for a baguette and a drink (omg, so expensive! 2,50 Euros for a can of coke?! 9 Euros for a cheese & ham baguette?!) before catching the Metro back to our hotel for a cuppa and a good nights sleep before DLP tomorrow! It's gonna be a long day!
Day 2 – Thursday 5th August 2010 (our anniversary!)
Took the Metro from Jacques Bonsergent (Orange, Line 5) to Gare Du Nord, then from there an RER train (blue Line B) to Chatelet Les Halles to board the final RER train (Red, Line A) to Marne-la-Vallee. It took us about 45 minutes. It was a big pile out of the station up to the security entrance of DLP where our bags were checked.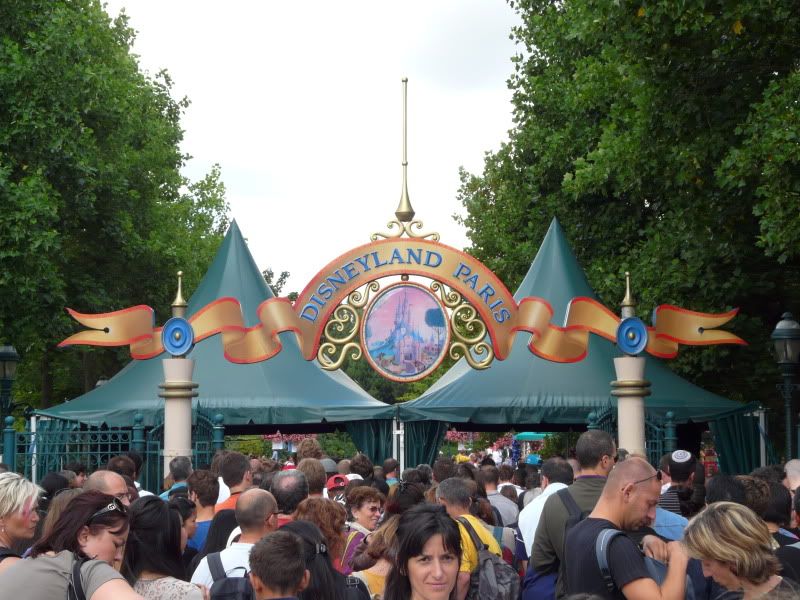 It was a bit of disorganised chaos getting through there! Once through security, we then strolled to the main entrance.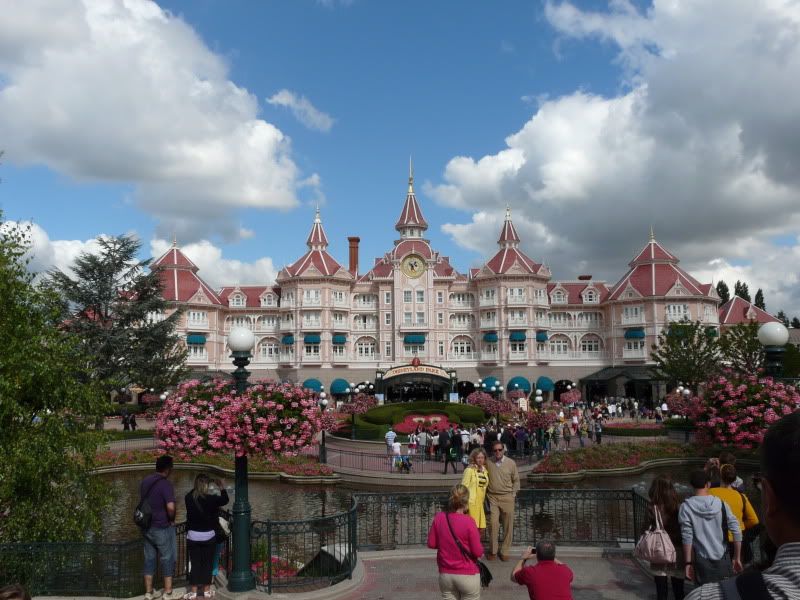 We had bought our tickets from the hotel for DLP – well, they were voucher things – paid 6 Euros and the rest – 39 Euros at the gate. We were told by the conceirge that we would not have to queue… but I think he fibbed, as we queued for about 20 mins at the gate, but no hardship! Got our tickets and made our way through the turnstilles (the amount of turnstilles in DLP and Paris in general is astounding!) into Main Street, USA.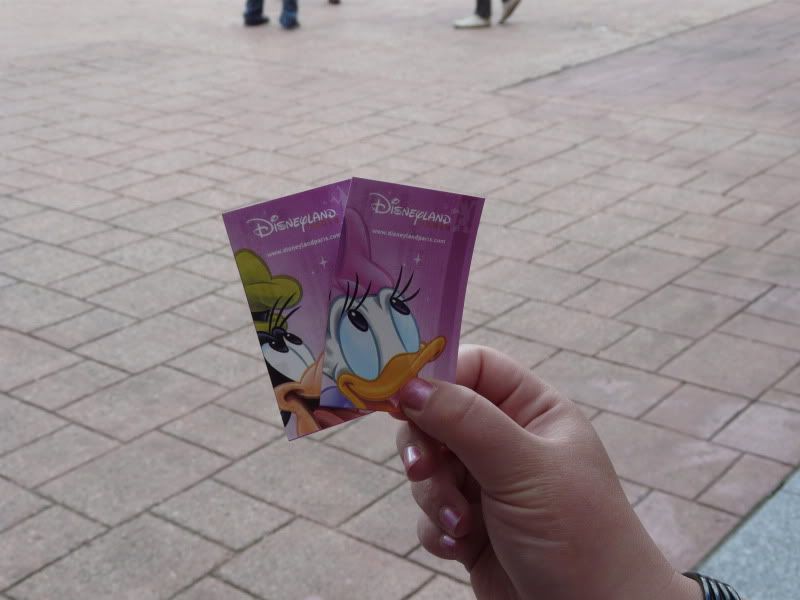 I couldn't believe we were in a Disney park! I was in awe to be honest, and as we rounded the corner and Sleeping Beauty's castle came into view I felt a lump in my throat!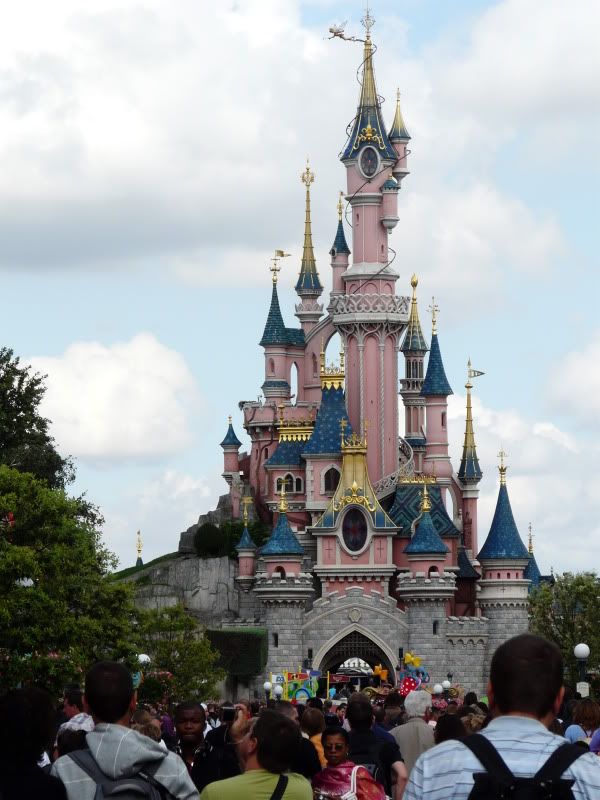 Steve & I were taking pics of each other in front of the castle and then the CMs started to clear the street as the Disney All Stars Express was about to make its way down. Steve took a little video as it went by, and me, well I was sobbing like a baby… I don't even know why!!! Here is a link to the video on YouTube: http://www.youtube.com/watch?v=gZtZIK3dLLU
We peeked in a few of the gift shops along Main Street, saw Mickey Mouse & Pooh having their pics taken with people, but didn't bother to queue for that and then decided to go and queue for the Disneyland Railroad and take it all the way around the park to Discoveryland. We had to wait about 20 minutes and then we were off!
I loved all the behind the scenes themeing of the park and we had a pleasant ride through each of the different lands, before disembarking at Discoveryland. Steve wanted to go on the Star Tours ride, but it said to avoid if you have back problems, which I do, and I didn't want to take the chance. I said to him I would queue with him, but bless him, he didn't want to ride without me, as he said it wasn't fair. So he just took photos instead!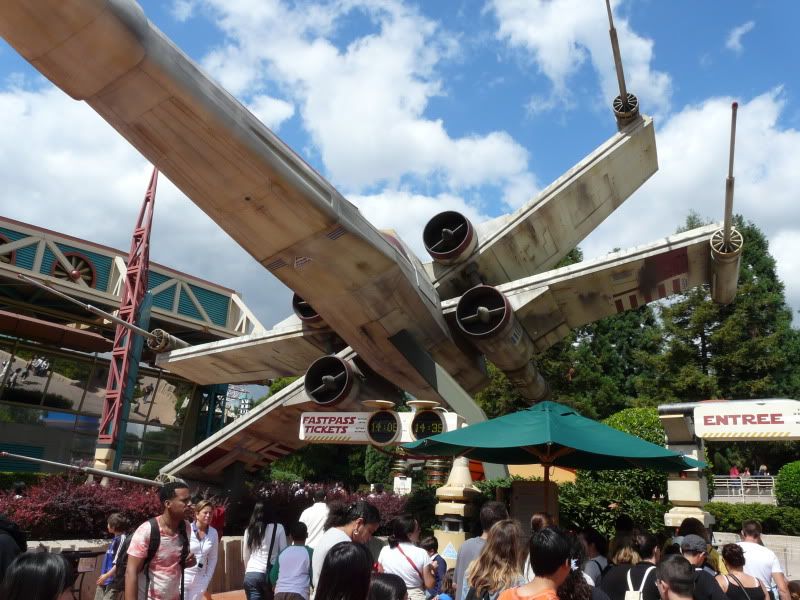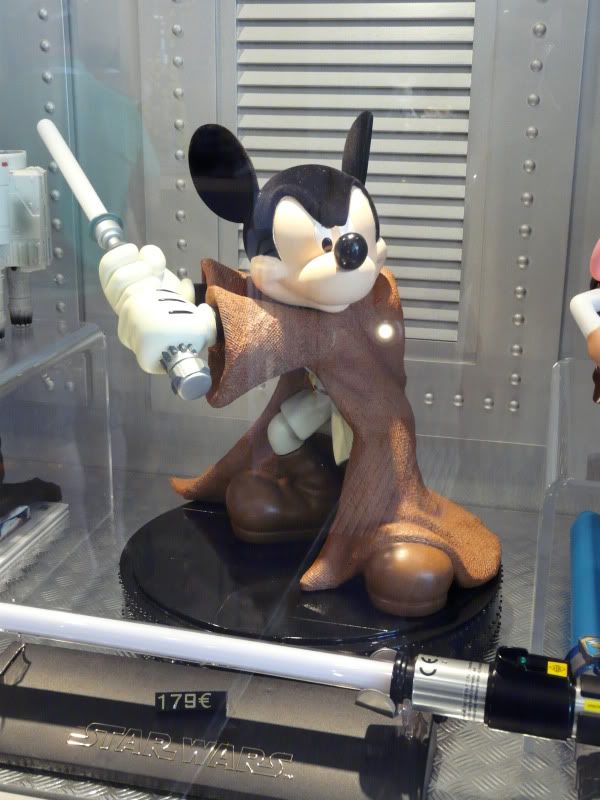 I wanted to see Captain EO, especially as I love MJ and the man only went and died 4 weeks before I was due to see him at the O2…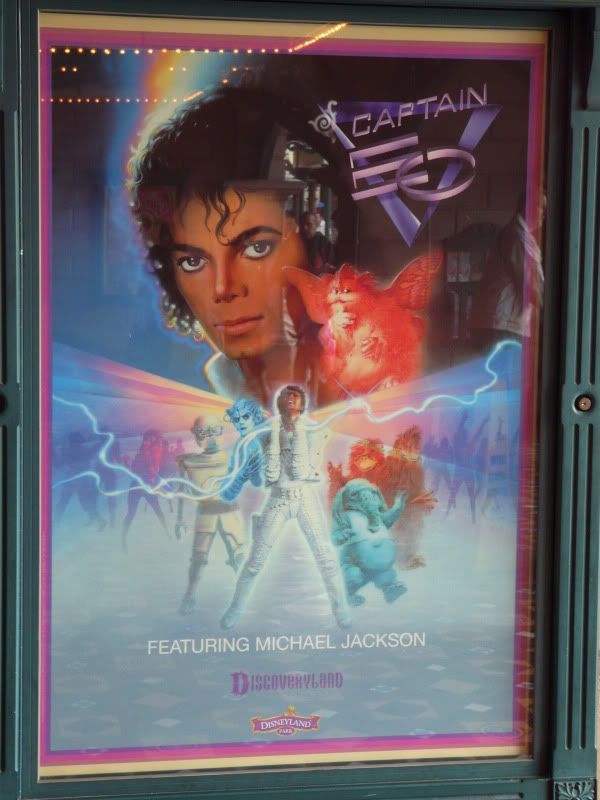 The queue was pretty much walk on for this. Seemed quite chaotic as we made our way into the waiting room after grabbing our 3D glasses as no one quite knew what they were supposed to do. We were shown a video of how they made the film before being told we could go into the theatre. The CMs asked everyone to move right down the aisles, but of course you have your people that ignore this and plonk themselves partway down the aisle. I lucked out and got sat in the middle Like I said, I love MJ…I have read that people complain that the film looks "dated" but, it's from 1984 or something! Of course it's gonna look dated! I thought it was excellent, and I always get a tear in my eye when MJ performs. In short, I loved Captain EO and hope it is still there in Florida when we go next year so I can watch it again!
By now it was lunchtime, and we headed to the nearest food place… Pizza Planet!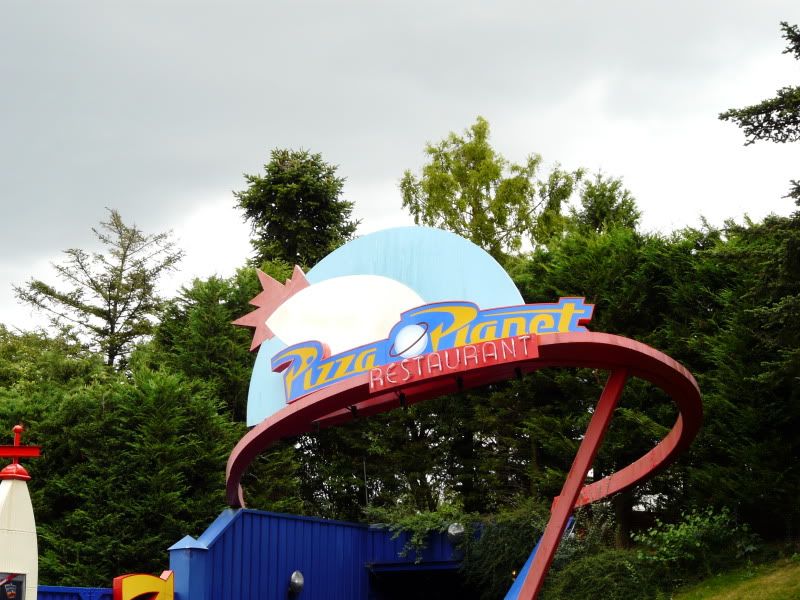 There was a salad bar with the usual lettuce, tomato, cucumber, sweetcorn, carrot and some weird coleslaw curry thing, along with 3 types of pizza (quite limited really) and 3 types of pasta and 3 sauces, plus bread and cheese, soft drinks and bottled water (which we took a few of )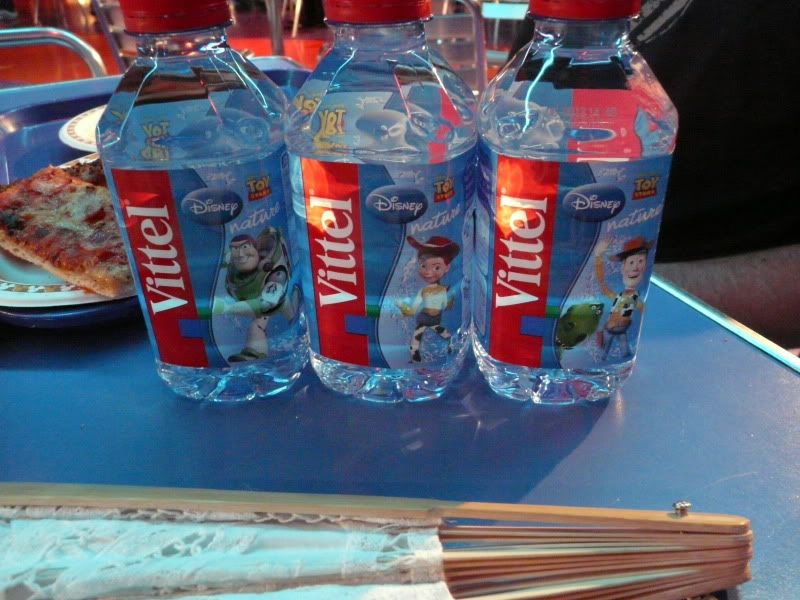 The desserts were different flans/tarts, apple smoosh (pureed apple) and chocolate smoosh (some really runny chocolate mousse thing!). Nothing outstanding about the food, but nothing particularly bad about it either. We hit the place at the right time, as after we sat down people started piling in!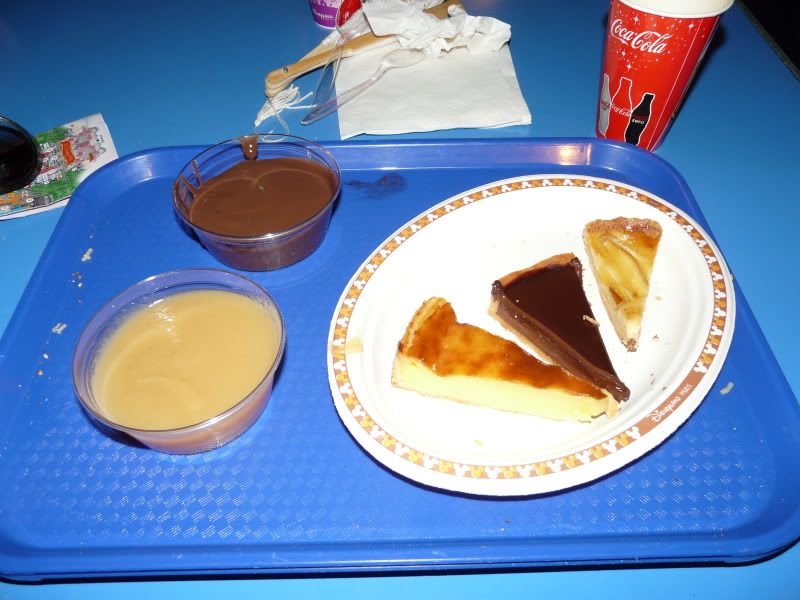 I liked the themeing in the restaurant, but it felt sparse in there… I had secretly hoped it was gonna be like in the 1st Toy Story film, so a little disappointed lol.
After Steve finished off a vast quantity of pizza, where he puts it, I don't know, and me finishing off my meagre (in comparison to his) portion, we ventured back into the park.
I don't remember seeing loos inside the restaurant, and if there is one thing that there seemed to be lacking in the park in general were toilets. But we found some in Videopolis. Naturally a huge queue for the ladies, and Steve snapped Mickey & Pluto whizzing by whilst waiting for me…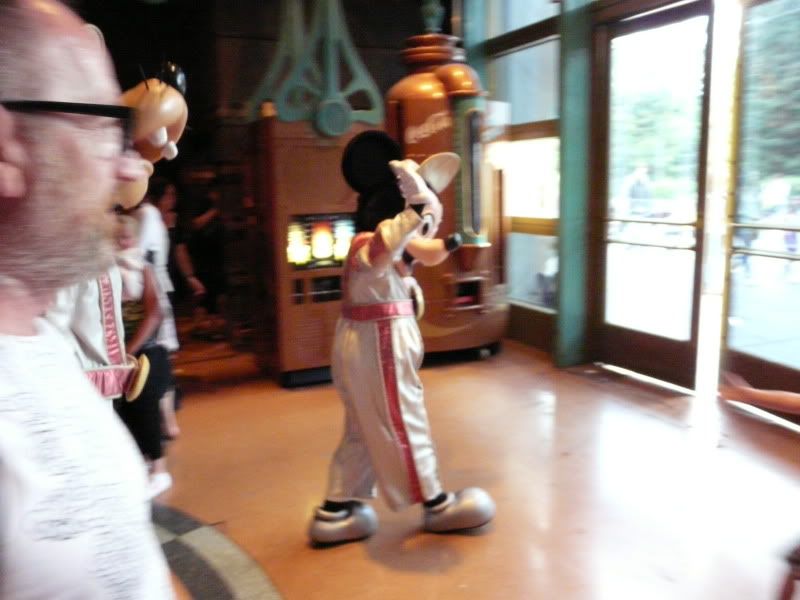 We took a walk down into Les Mysteries du Nautilus… expecting it to be some sort of simulator ride, but it was a walk through thing and was tres boring!
We then saw the mad queue for Buzz Lightyear Laser Blast and decided to grab Fastpasses for these. Time: 7.15 – 7.40!! But we planned on staying till the close, so wasn't too worried.
We made our way through to Fantasyland, saw the Sheriff of Nottingham signing autograph books. Made me wish I had brought the autograph book I have made for Florida!! I thought he was a really random character to see, but nice to see a character from one of my favourite Disney movies!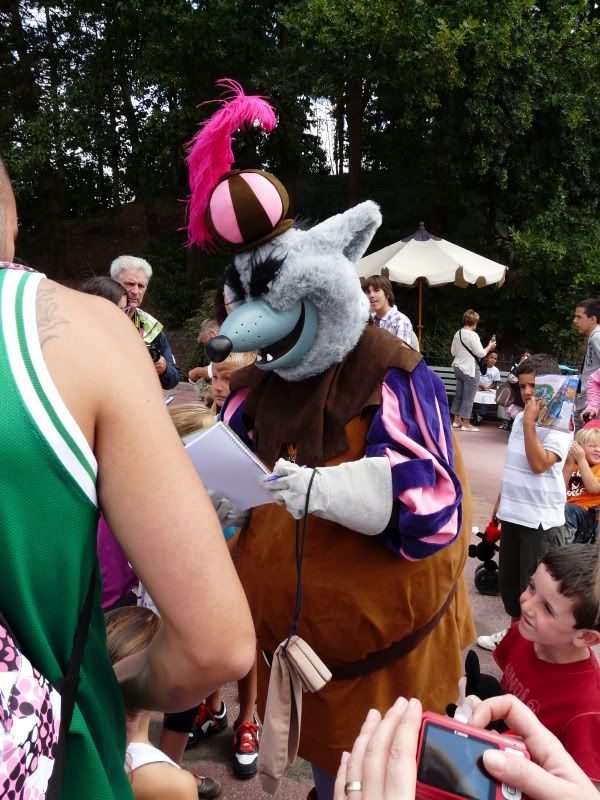 I clocked it's a small world, and said to Steve that we MUST go on this… and possibly be scarred for life… yes, I've heard the horror stories of this ride lmao!
We had to queue for this – maybe about half an hour – I didn't really keep track to be honest though, and time just flew by. Hopped into a boat and floated round. Wow, what a long ride… and that song is still going round my head! But we loved it! Steve took a video, which is still being uploaded to YouTube!
The sign on the boats made me laugh, because I really had wanted to get up and have a boogie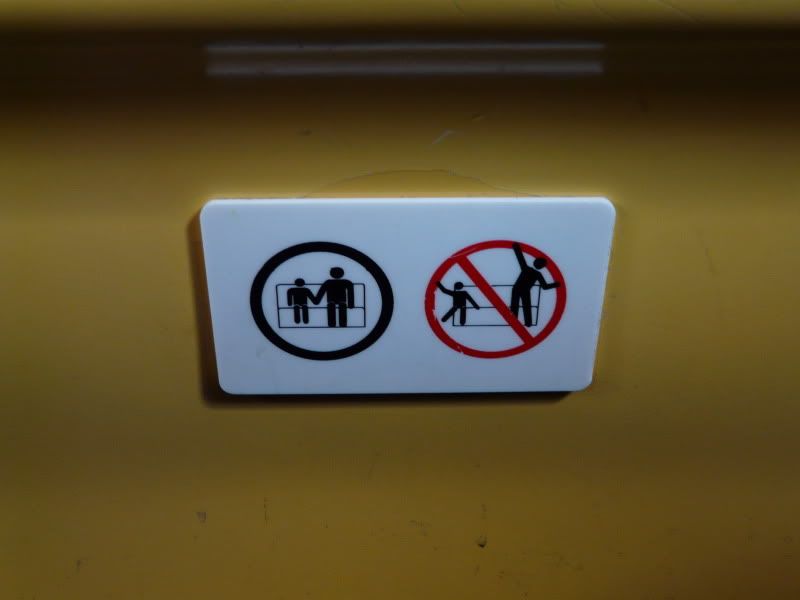 We bypassed most of Fantasyland – I was aware that we only had the one day there and wanted to see as much as possible. But again, I loved the themeing of the land and if we go back, we'll explore it a bit more.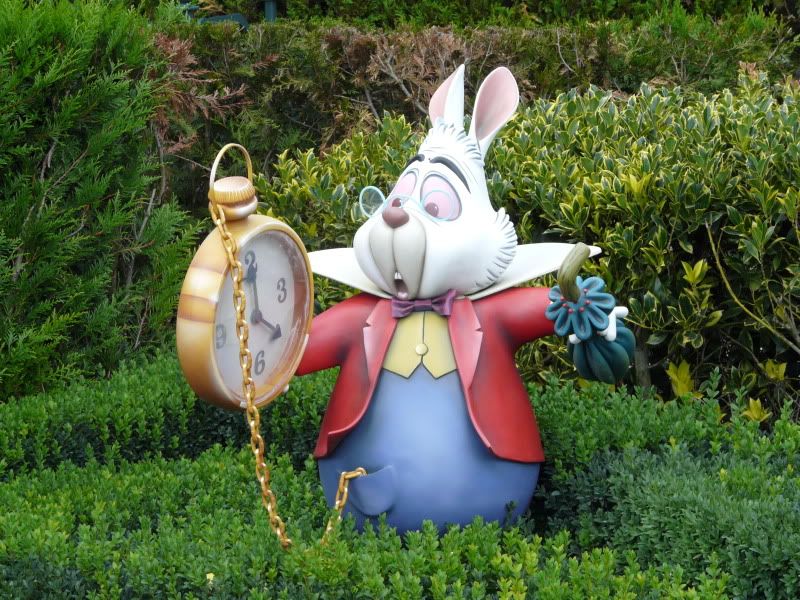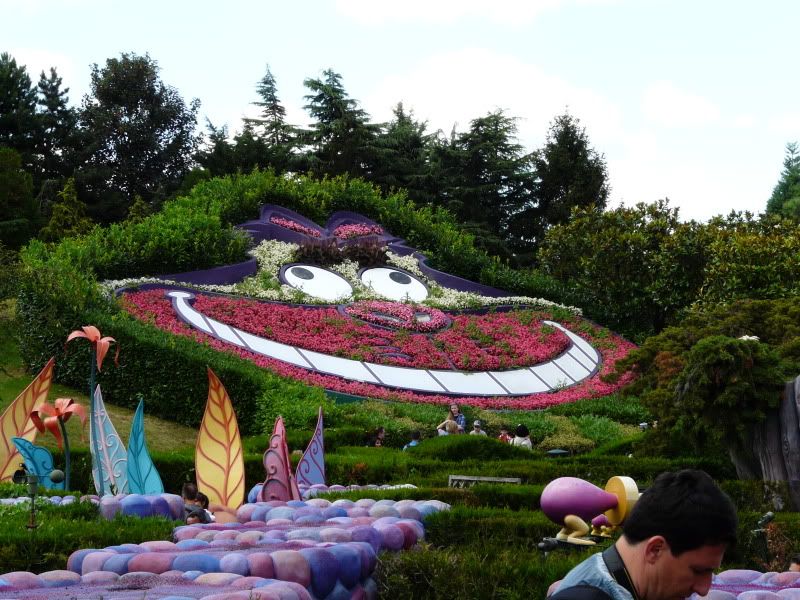 Off we trotted to Adventureland and the ride that Steve had been saying he really wanted to go on… Pirates of the Carribbean…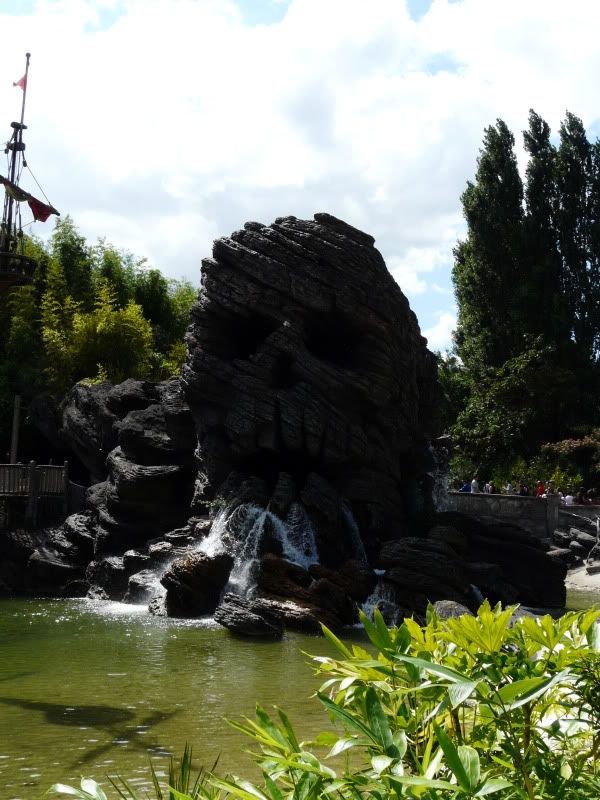 A fairly long and hot queue. The only bit of pushing in that we experienced during our day. A little kid had run off from his mum from behind us somewhere, and the mum, instead of grabbing the kid and going back to her place in line, just stayed where she found her child… hmmmm! Shameless!
Steve was a little disappointed that the drop on the flume wasn't higher and longer, but it was a cool ride and we even saw Jack Sparrow signing autographs outside. (not quite Johnny Depp though ) I think my son will enjoy this ride when we go to WDW next year.
We stopped off in the gift shop and I bought my son a little treasure chest to save his pennies *cough* pounds in for the big Florida trip, but nothing else grabbed my attention in the way of gifts, although, Steve bought a mug because he's a souvenir sucker lol.
We got ourselves a little bit lost in Adventureland as between the pair of us we managed to loose the park map >_< thankfully they had a spare one in the shop, so we were back on our way to Frontierland.
On our receipt from our earlier meal at Pizza Planet was a voucher for a free drink, so we grabbed that from the Last Chance Cafe
and just sat and watched the world go by for 20 minutes or so. I said how I couldn't believe that we were in Disneyland, and we both agreed that for Florida that we will be planning like crazy – we knew we were rushing through everything, and it's only as I type out this trippie, referring back to the map for names of things, that I realise how much we missed out!! We also commented how nice it was to be spending our 1st anniversary here at Disney in Paris, and our 2nd anniversary we'll be in WDW!
We were sat opposite Thunder Mesa Riverboat Landing and joined the queue for that.
We seemed to be waiting ages for this – it was a bit of a free for all, with no proper queue and then there was some commotion going on as the boat came in – there were security guards grabbing people as they stepped off the boat… didn't have a clue what it was about! Everyone made a mad dash for the upper deck, but we stayed on the middle floor and enjoyed the ride around the Big Thunder Mountain. As I watched it go by I was sizing it up, to see if I would actually fit in the ride… I decided that the bar might not sit properly, and didn't want to risk embarrassment, so we didn't go on it… gutted, but I WILL be going on it in WDW! Turns out we got the last ride on the boat as well, so good thing we went on it when we did!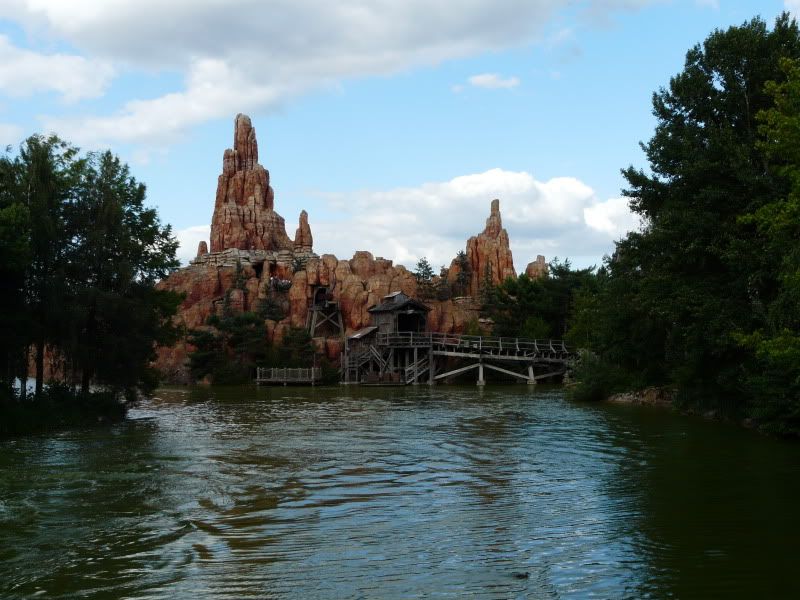 I spied the Phantom Manor and after the Riverboat ride we headed towards it. This was a fairly longish queue too. As well as being boring as anything!
Eventually we got to the front doors of the manor and was led into an elevator type thing. Some backstory and the walls (or was it us?) started moving down. Then it went pitch black with some evil laughter and a little kid burst into a fit of giggles which was so funny! We then made our way to the ride pods which are continually moving and hopped in… not before Steve got told off (along with others) for taking flash photography :| Oops! It didn't stop others taking flash photography on the ride itself, but Steve had turned the flash off and took a couple of pics.
I thought this was a cool ride too, but then I like dark rides and all the themeing that goes with them!
By now it was nearly 7.15 and time for the Once Upon A Dream Parade. This was rammed! But we managed to grab a spot about 3 people deep… me having ducks disease (my bum too close to the ground) couldn't see too much and have had to rely on the pics my hubby took. Also experienced the "I'll stand here and hold spaces for my whole extended family" as all of a sudden ten people barged in front of us :| I naturally barged right back – wasn't going to stand for that!!!
A little kid lost their balloon…. I am always sad when I see one of those helium balloons floating in the sky… and I'm sure his/her parents were too, as I imagine that they're not cheap lol
There was a delay in the parade starting by 15 minutes, but when it started I was like "Yay! Parade!!"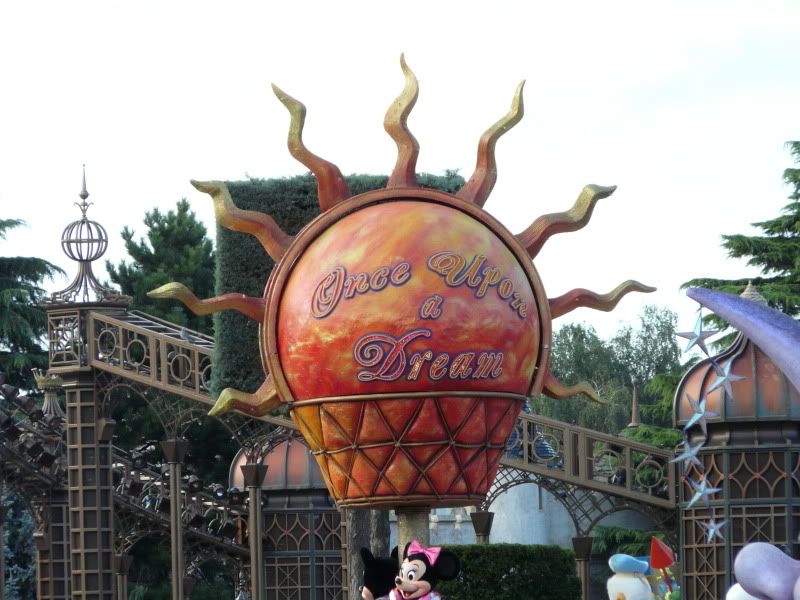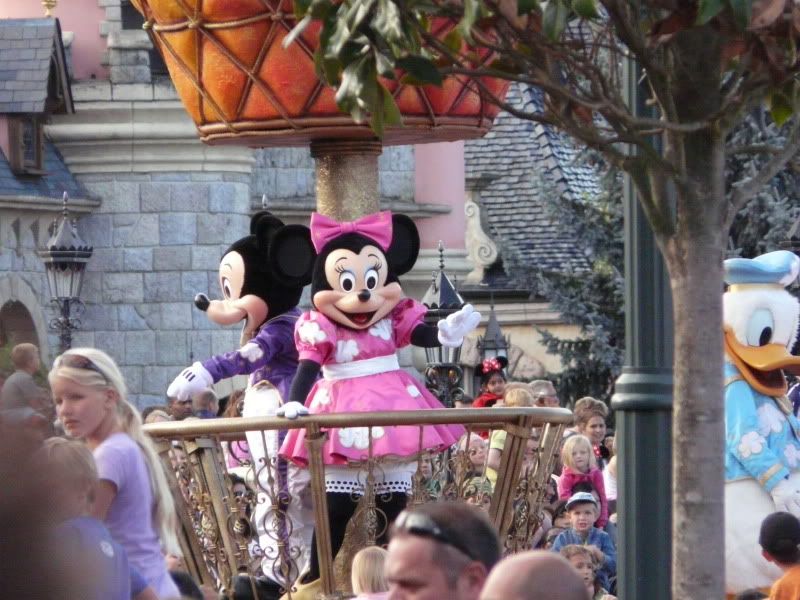 The Alice in Wonderland/Pinocchio float stayed sat in front of us for ages!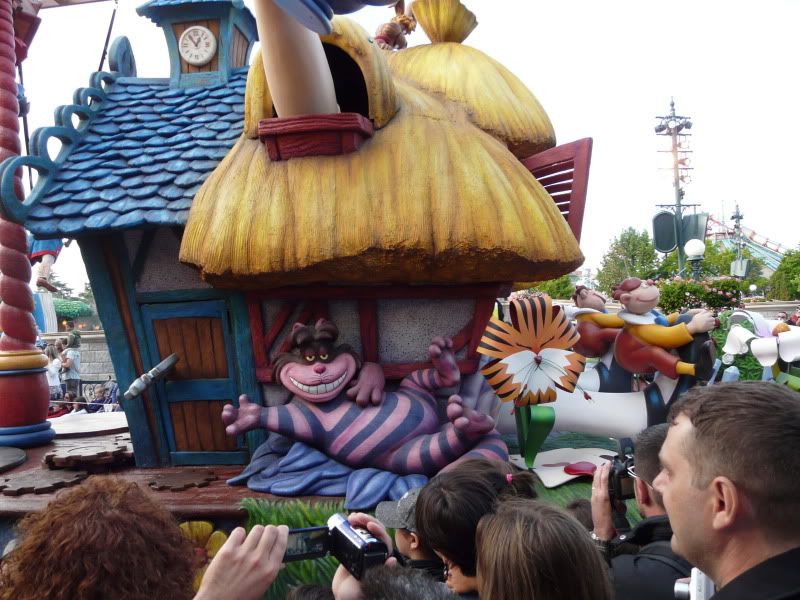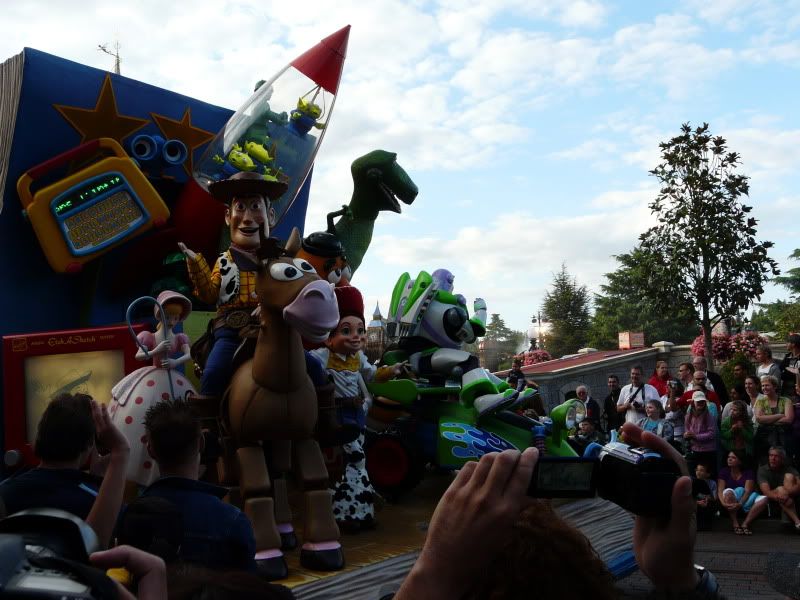 Loved the Disney Villains float… but our photos of this came out pretty dark
Lion King & Jungle Book
My favourite ever Disney movie is Sleeping Beauty… aww, I love the song! *wipes tear*
As the parade went past us, we walked briskly back over to Discoveryland to use our BLLB Fastpasses
Steve mentioned how we were ten minutes outside the alloted time, but I knew from reading here that that is fine, so we were in the queue – had to wait about ten minutes once inside, but what a fab ride! I whipped his puny score
I was disappointed in the gift shop outside BLLB, they had no squeaky aliens for sale so I had to take a pic with them instead – I ♥ them!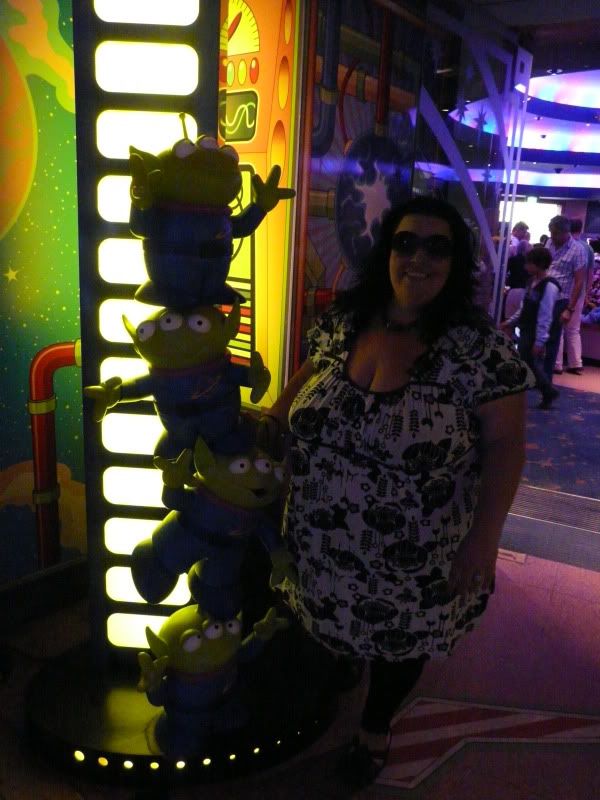 We then took a slow walk back to Main Street, USA to wander in and out of the shops and soak up the last bits of our Disney day out. By now we were both shattered and not thinking to check what time the last train back to our hotel might be, we skipped the evening fireworks, which was a shame… and made our way back to the train station. Wasn't too manic and because it was a double decker train, there was space to sit down (thank God!)
I had read a LOT of negativity about DLP – saying that CMs were rude, I have to say, in our experience that this was not the case. The ones that we encountered were helpful, smiling and friendly.
I've also read comments about pushing in, in lines and smoking in lines – other than the aforementioned pushing in on POTC, there was none of that – nor smoking in lines. Maybe we were lucky? And of course those space savers for the whole extended family for the parade – but something I was expecting.
I've also read about how it is expensive… but again, I was expecting that to be the case, as we found Paris expensive in general, and combined with it being a theme park, I wasn't too shocked.
My one moan about the park, is the seeming lack of toilets… or if there were more, I didn't think they were well signposted! Steve also moaned (when we lost our map) that there should be a big map somewhere – we didn't spy any, but I finally did see one, so they are about! I also wished that there had been more water fountains dotted about – we only saw the ones in Main Street, and there was one in the queue for Phantom Manor and POTC.. typically a slow moving queue then sped up as we went past the fountains, so wasn't able to fill up our bottles!
Our trip to DLP has certainly whetted our appetite for Florida, and I can't wait! I know for a fact that I'll be slimmer and fitter, which will be so much better especially as we'll be there for 3 weeks – and a lot of walking! If anything, this trip has spurned me on more! Yes, my feet hurt at the end of the day – but so did hubby's! And we were ready for the land of nod by the time we got back to the hotel! As a plus size lady, the rides I went on, including Phantom Manor which has a bar come down, I was fine with, so if I can fit on them, any one who is worried about their size can! Part of me wishes I did Thunder Mountain, as I think I would have been okay with it, but ce la vie! Next time… next time!
My experience as a Disney virgin to DLP was a great one. I loved every single minute of our day there and would go back again. I would like to be able to go to Walt Disney Studios Park… We plan on going back to Paris to do the things we didn't get a chance to do this time around, so I'll be sure to wangle a trip back to Disney then
Day 3 – Friday 6th August 2010
We both felt it on our feet and legs today after yesterdays marathon around DLP! So took an easy one… or so we had planned to… we took the Metro to the Eiffel Tower, and as we didn't have anything planned, decided to queue to go up it.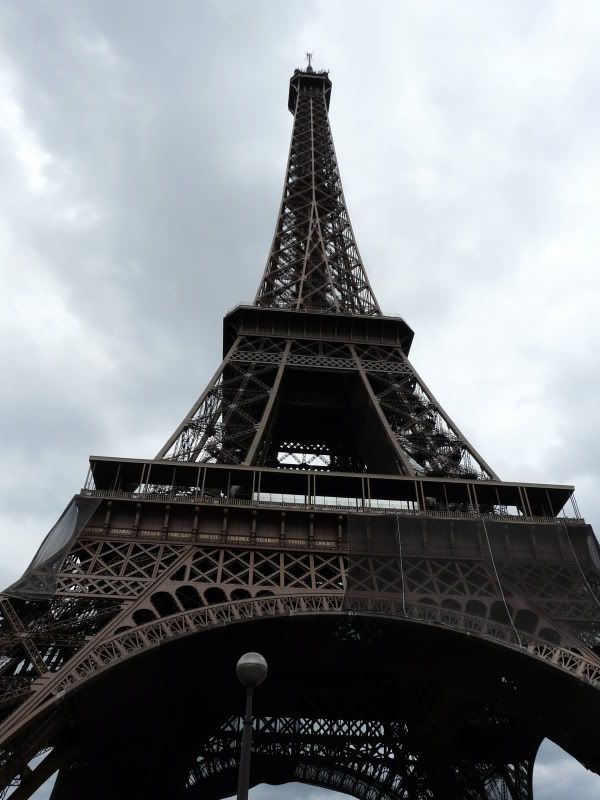 Two and a half hours later (!!!!!!!) and we were in the lift going up to the second floor. I could not believe the queue was so long, and coupled with beggars, erm, begging and touts selling crappy souvenirs it wasn't a very pleasant experience But the trip up the tower was well worth it…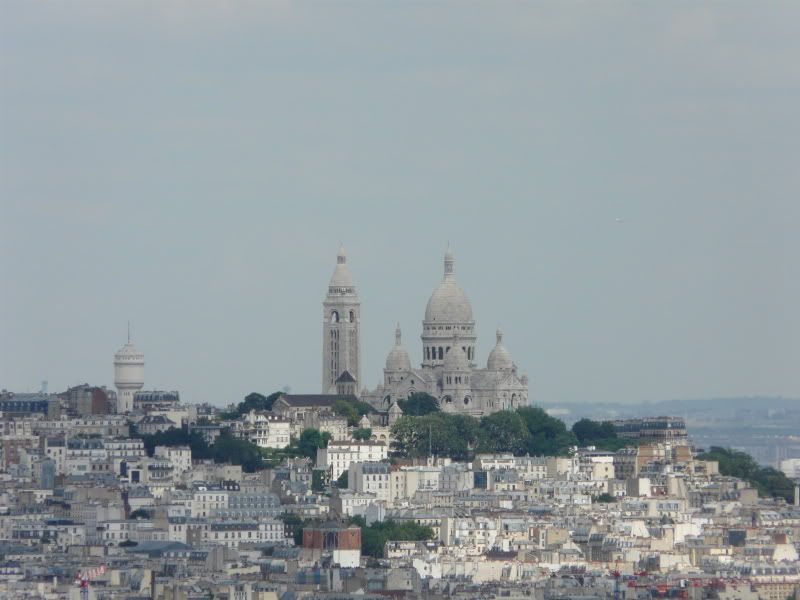 although, again, lack of toilets… and seating… when you've been stood on your feet for 2 1/2 hours, you fancy a sit down! We then took a leisurely trip on a Batobus along the River Seine and eventually got off at the Louvre… more queues and didn't go in, but got this photo. My husband is so tall
Apparantly the Parisiens go on holidays during August, and a lot of the bistros and shops were closed, but we found one a little walk away from our hotel and had a lovely 3 course meal with wine for 60 Euros.
Day 4 – Saturday 7th August 2010
Going home day Had to check out at by noon, and our train back to the UK wasn't until 4.15… we were able to leave our suitcase in the hotel, and took ourselves off to see the Moulin Rouge (something we'll do next time) and the Sacre Ceour. Cue more beggars… :|
Eventually had to make our way back to Gare du Nord and get in line to go through passport control and security. The journey home seemed to take a lot longer, and I knew we were back in London when we made our way to the tube and there were delays!! Typical!
I know that this trippie is mammoth, so if you have made your way through it… I salute you!!!