Home » CREATE » Crafts »
Don't throw out those K-Cups quite yet. Don't toss those old beans. Love crafts? And Coffee? Why not mix them both?
You'd be surprised at the things people have come up with. I rounded up 10 fun crafts for coffee lovers who want to make something out of what other people would dispose of.
These DIY crafts not only look lovely in your own home, but you can make inexpensive gifts for friends as well. These crafts will range from easy to advanced. Read on and discover the cutest crafts you can make out of coffee related items.
10 Fun DIY Crafts for Coffee Lovers
1. Coffee Bean Candle Holder
It's so simple yet so cute. The Coffee Bean Candle Holder idea from Fresh Eggs Daily is something I've seen around before, but it's done beautifully and simply here.
This elegant little craft combines a love for coffee as well as the desire to add a little oomph to the home. With each tea light candle nestled into the jar of beans, you can add any detail to it like the photos below. Twine, doilies, go nuts!
This craft allows you to get a little creative, adding your own coloured ribbon or yarn and experimenting with different glass holders.
This post contains Amazon Affiliate and other affiliate links. If you clicked the link then made a purchase, a small percentage of the sale price would be paid to this me. It doesn't cost you anything more but it helps keep the lights on over here!
2. Coffee Can Bread Baker
Did you know that old coffee cans make great bread makers? It's true! Mique at Thirty Handmade Days made a wonderful post about making bread by using a coffee can.
You can decorate the can any way you'd like. It's especially fun to do so if it's a gift. You can wrap paper around the can and tie cute colourful string around it as well.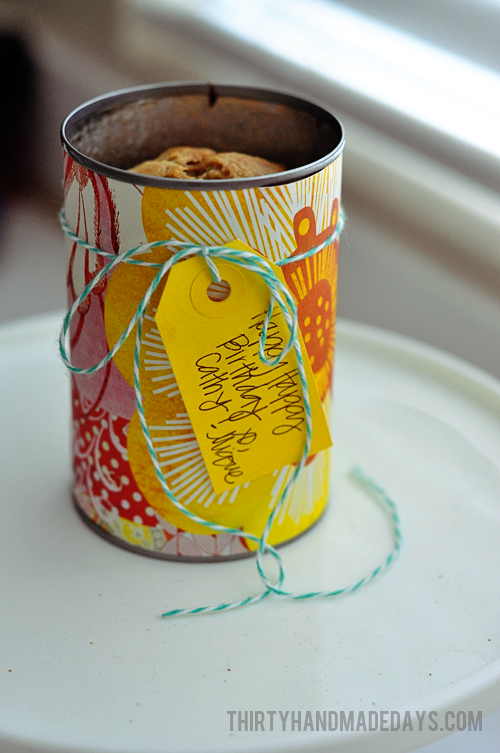 3. Coffee Can BirdHouse
Coffee cans really come in handy. The coffee can birdhouse idea can be found on Birds & Blooms, a magazine about the love for birds.
Take a look at this photo. Can you believe that used to be a plain old coffee can? You can see underneath where the coffee can is. What a beautiful display!
It looks simple but it requires someone who knows their way around woodwork. Stunning, and oh-so adorable.
4. Coffee Can Vase
Ok, we promise this is the last coffee can craft. But it's from Martha. How could we resist?
The Martha Stewart Coffee Can Vase is a sight to behold.
Similar to the coffee can birdhouse, this craft is designed to look like professional and well done.
To make this craft, you'll need a ruler or measuring tape, paper or paint, scissors, coffee can, twigs, pruning shears, hot-glue gun or rubber bands, and raffia. Some of these items are optional, so check the website to make sure you have what you need.
As mentioned on the site, you can also use this as a "rustic desk organizer."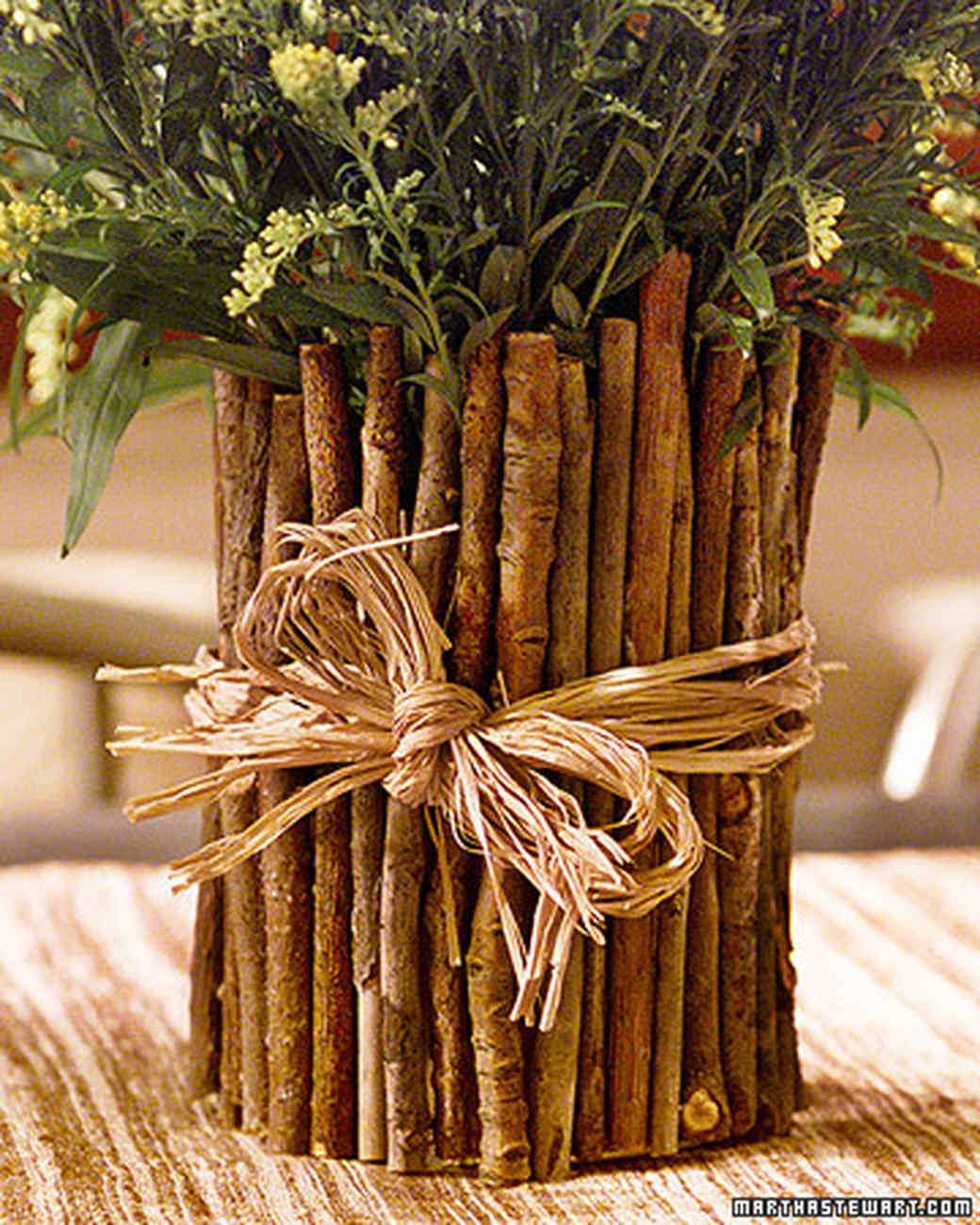 5. K-Cup Wind Chime
That's right. It's a K-Cup Wind Chime and it totally rocks. This is the perfect kids craft because it involves beads, paint, bells, and other items children are used to playing with during craft time. Plus, you can reuse your old Keurig K-Cups (right now, Keurig's offering a 15% off promo code here and here).
The end result is a colorful wind chime that brightens up any outdoor area. Listen to the wonderful sounds of something you created!
6. K-Cup Seed Starter
Ok, we're coming at you with another K-Cup craft (seriously, there is so much you can do with K-Cups).
The K-Cup Seed Starter craft by Beka Ein from Snapguide is fun for the whole family. You just need potting soil, seeds of your choice, a flat box, plastic wrap, a pencil, scissors, a toothpick, and of course, K-Cups. The amount of K-Cups you need depends on how many plants you're going to grow.
Ein's photo shows you how effective this is! Look at all of those tiny sprouts.
7. Coffee Bean Scrub
Exfoliate with a scrub you made on your own! You can make a Coffee Bean Scrub with coffee beans from the bag in your own kitchen.
This recipe from TheCoconutMama.com is very coffee rich and utilizes the moisturizing properties of coconut oil.
You can decide on the ingredients, how much of something you want to include, and how potent it is. The website calls for ground coffee, sugar or salt, coconut oil, cinnamon, and vanilla, but you can experiment with what you like.
8. Coffee Bean Pendant
Are you into making jewellery? This next craft is a little advanced, but for coffee lovers who are into creating jewellery, this Coffee Bean Pendant is a fun one.
The video tutorial will show you how to create a unique coffee pendant that will profess your undying love for your favourite caffeinated beverage.
9. Coffee Bean Necklace
Here's another impressive piece of coffee bean jewelry. This time, we're only using but one bean! Coffee Bean Direct is a great place to go to find a wide selection of coffee beans (promo codes here and here).
Renee from Attack of the Hungry Monster made an in depth post about creating this DIY Coffee Bean Necklace. She doesn't skip a beat and provides tons of photo references.
This is a good idea for someone who doesn't want a larger sized necklace, but something more subdued.
10. Coffee Bean Cone Tree Centerpiece
Our last craft is the Coffee Bean Cone Tree Centerpiece made using styrofoam. You can delight in a pretty piece of decoration in your home that looks positively Pier 1 without paying for it.
The directions are simple and you just need coffee beans, cloves, hot glue gun, sticks, foam cones, dowel rods, Chocolate Bar Apple Barrel acrylic paint, and a foam brush.
Kids will love this, too, as long as they have guidance around the hot glue gun.
Get Crafting!
Pick your favourite from the list and get crafting! These fun crafts for coffee lovers will give you a perfect plan for your next weekend activity.
Please feel free to share these 10 Fun DIY Crafts for Coffee Lovers by using the social buttons at the bottom of this post! Don't forget that you can join The Pumpkin Patch for member exclusive freebies, offers, and more; and follow The Purple Pumpkin Blog posts on Feedly or on Bloglovin' so that you don't miss out!