Welcome to the second Link Party at The Purple Pumpkin Blog!
But first…let me showcase the top three links from last week's party…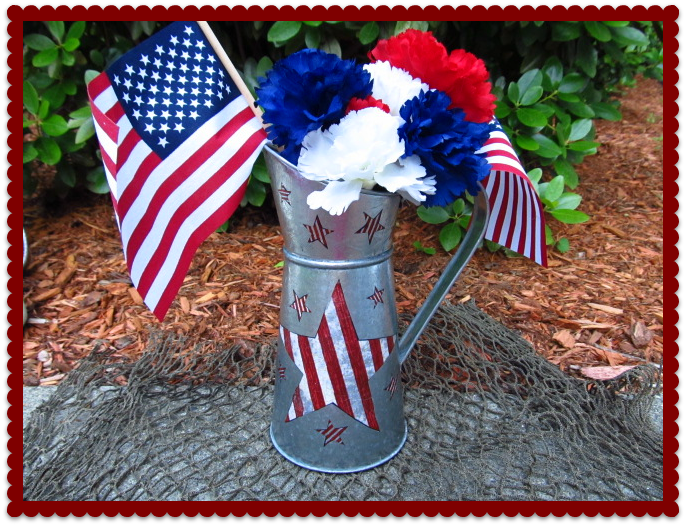 4th of July Galvanised Pitcher and Buckets from Maria at Sweet Yarns
Mango Ice Cream (made without an ice cream machine) from Holly at A Baker's House
Fresh Limeade from Amber at SaltTree
And a big thank you to everyone who participated in my first party last week! I love visiting new blogs and seeing all the great summer ideas. I hope that the link parties at The Purple Pumpkin blog continue to grow!
---
On with the party!!
Now, yesterday was the 4th of July – Independence Day in the USA; Canada Day was on the 1st of July, and recently in the UK we celebrated the Queen's Diamond Jubilee to commemorate her 60 years on the throne…to that end, this weeks theme is Patriotic!
My Jubilee Trifle, using the fruit to *try* and resemble the Union Jack flag!
To join the party simply use the button at the end of this post to add a link to your blog post (please make sure you link to the specific post) with a recipe, craft, idea, design, party (or whatever!) that you have created and has a patriotic theme! It doesn't matter where in the world you are, if you've done something patriotic recently (or a while ago!) you can link up. You can even add several links if you so wish!
There are a five simple rules…and here they are…
The link must be to something you have created
Please, no links to ads, giveaways, shops, link parties etc
Help spread the blog love by visiting other links and leaving a nice message, and maybe how you found them – as bloggers, we like to know where visitors are coming from!
Please grab one of the link buttons below and post on your blog
At the end of the week, I will feature some of the links, so when I do, be sure to grab a 'featured on' button (which will be available on that post)
It would be great if you followed my blog by subscribing to my feed or joining me on Facebook!
If you have never joined a link party before, don't be shy! Just post your link following the steps at the end of the post and submit your recipe, craft, idea, design, party (or whatever!) It took me a while to join in at a link party, but I think they're great fun, and you get to see lots of different blogs and ideas :)
This is my second link party, and I really hope that some of you will join in and we can all get some great ideas from each other! I plan on holding a link party every Thursday so remember to stop by!
The Purple Pumpkin Blog Link Party #2
Patriotic



Want to start your own party? Click here! InLinkz